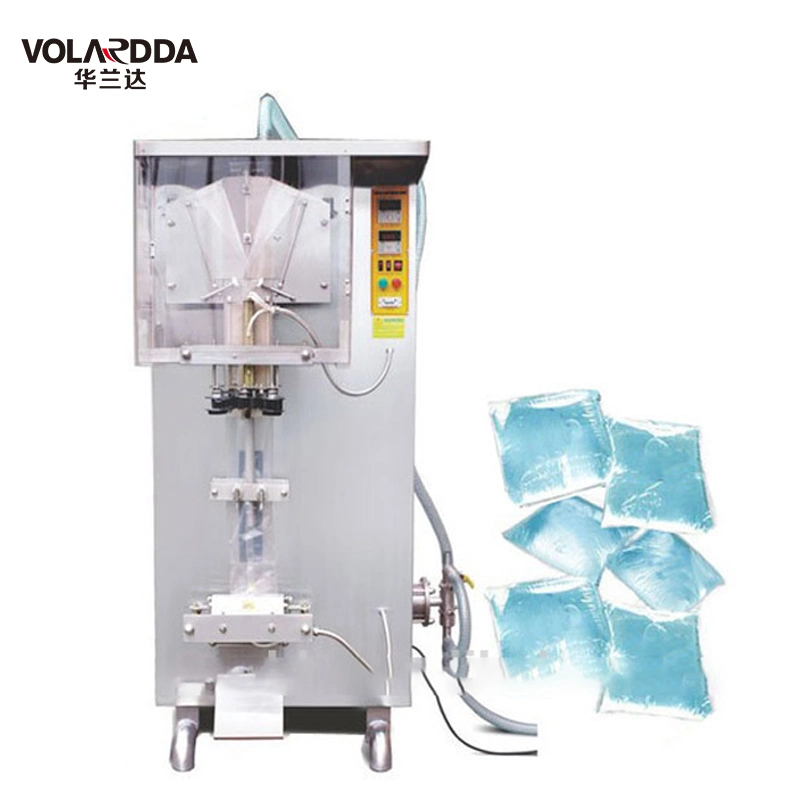 Introduction:
This machine is high precision packing machine and the most advanced liquid compound packing machine in china, which is standing, three side sealing and intermittent. It can automatically complete Bag-making, filling, sealing, printing, cutting and counting .Controlled by microprocessor and automatic photocell. It is widely used to pack all kinds of liquid without gas, especially soy, wine, vinegar, juice, soybean milk, peanut oil, vegetable oil, plant oil, mineral water and liquid chemical products. It is automatic for ultraviolet radiation, sterilizing bag forming, code printing precisely filling, and synchronization with sealing and cutting. This series machines have been long-tested, and their performance gained a very high reputation from our clients because of the simple operation and smooth work with low failure rate.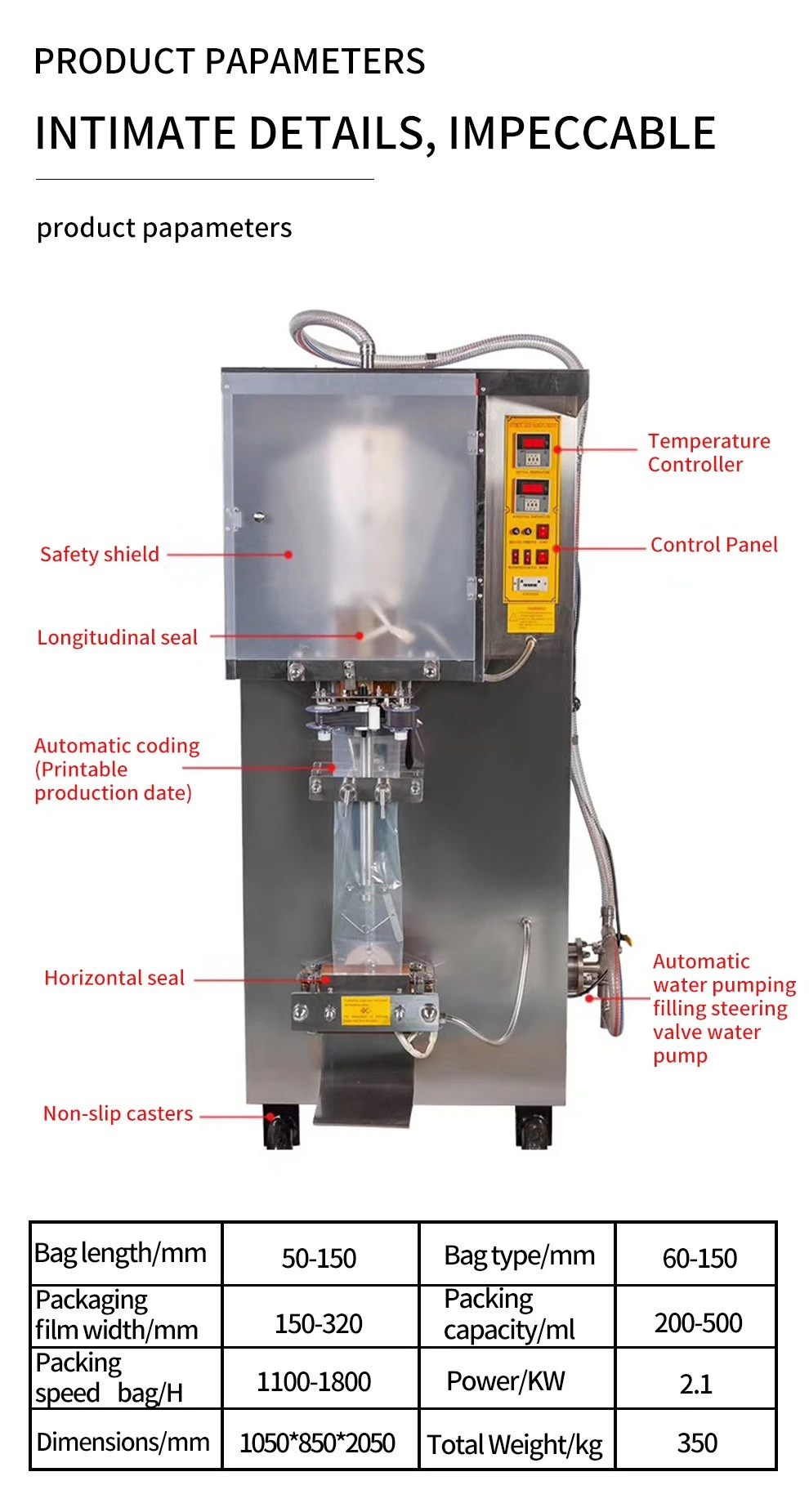 1. After use, wash away residual liquid in the pipe with water. Otherwise the residual liquid will be degenerative and affect the quality of product of next production. Remove plastic pipe transfusion and clean it with a brush. Keep it clean and dry.
2. Regularly check moving parts and oiling state and oil the machine with sufficient 20# lubricant or lithium based grease at any time. Otherwise the operation will be out of order and that will severely affect service life of machine.
3. Regularly check the machine and clean away foreign matters on the surface of transverse copper block. It is not allowed to have encrustation on the surface. Otherwise thermal conductivity will be reduced, the temperature of copper will rise, and hot transverse sealing and thermal cutting bag will be out of order.
4. In the case of finding abnormal phenomena, cut off power supply immediately. Restart after troubleshooting.
5. During production in winter with temperature under 0 degree, unfreeze the ice in quantitative pump and the pipes with hot water. Otherwise, connecting rod will be broken or the machine does not work.
6. Single sheet plastic film for the machine should be 80mm thick. The tension strength, even thickness, and lubricating property of film should be guaranteed. The weight of each roll of plastic should be controlled under 18kg (320mm) or 14kg (240mm). Transverse hot sealing temperature should be under 260 degrees. Poor thermal sealing or high failure rate of bag caused by employing single sheet plastic film not recommended by the manufacturer are not within extent of liability borne by the manufacture. Are not within extent of liability borne by the manufacture.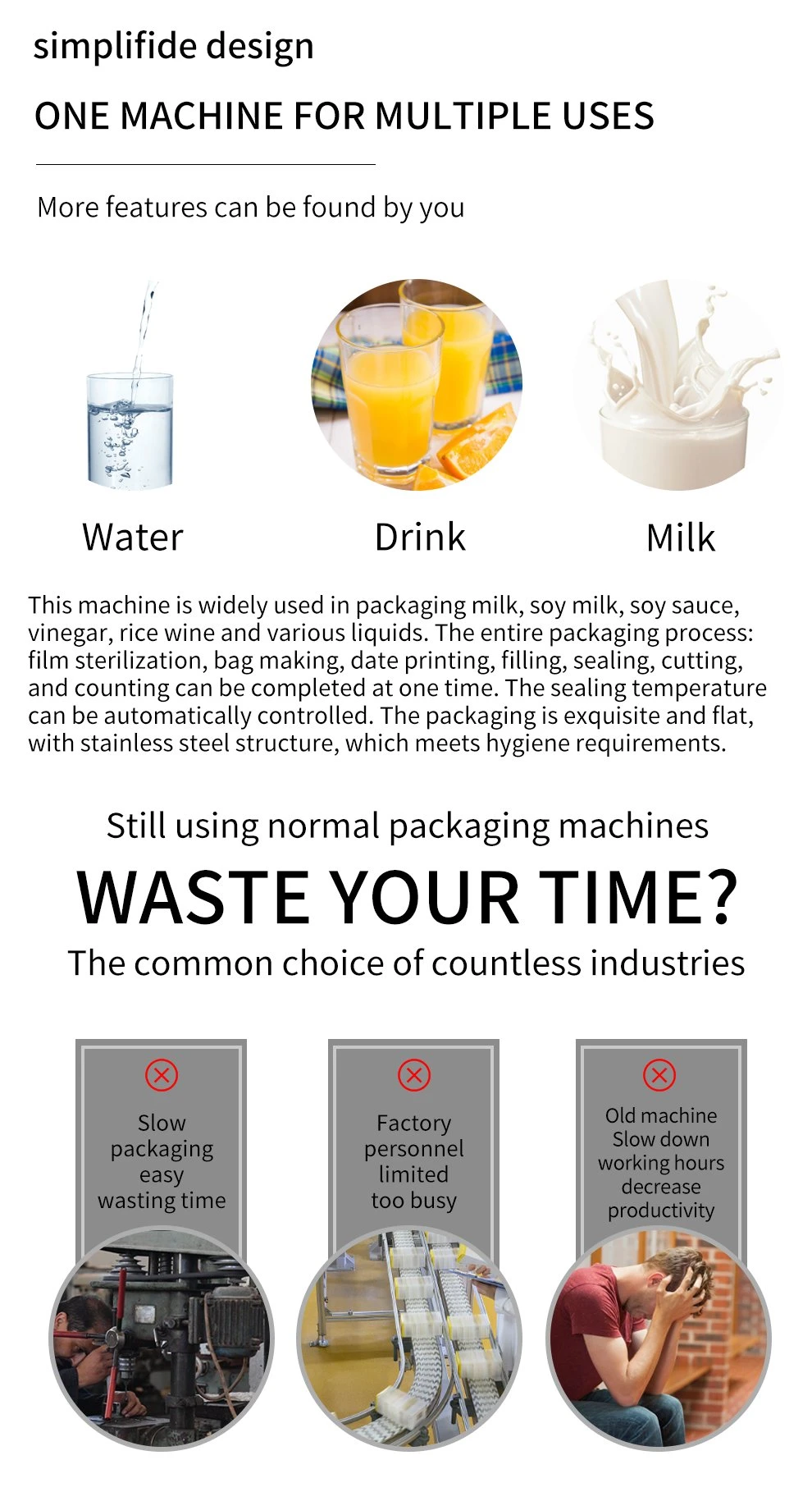 This machine is widely used in packaging milk, soy milk, sauce, vinegar, rice wine and various liquids, the whole packaging process: film sterilization, bag making, printing date, filling, sealing, cutting, counting can be completed at one time.The heat seal temperature can be controlled automatically.The package is exquisite, smooth and adopts stainless steel structure to meet the sanitary requirements.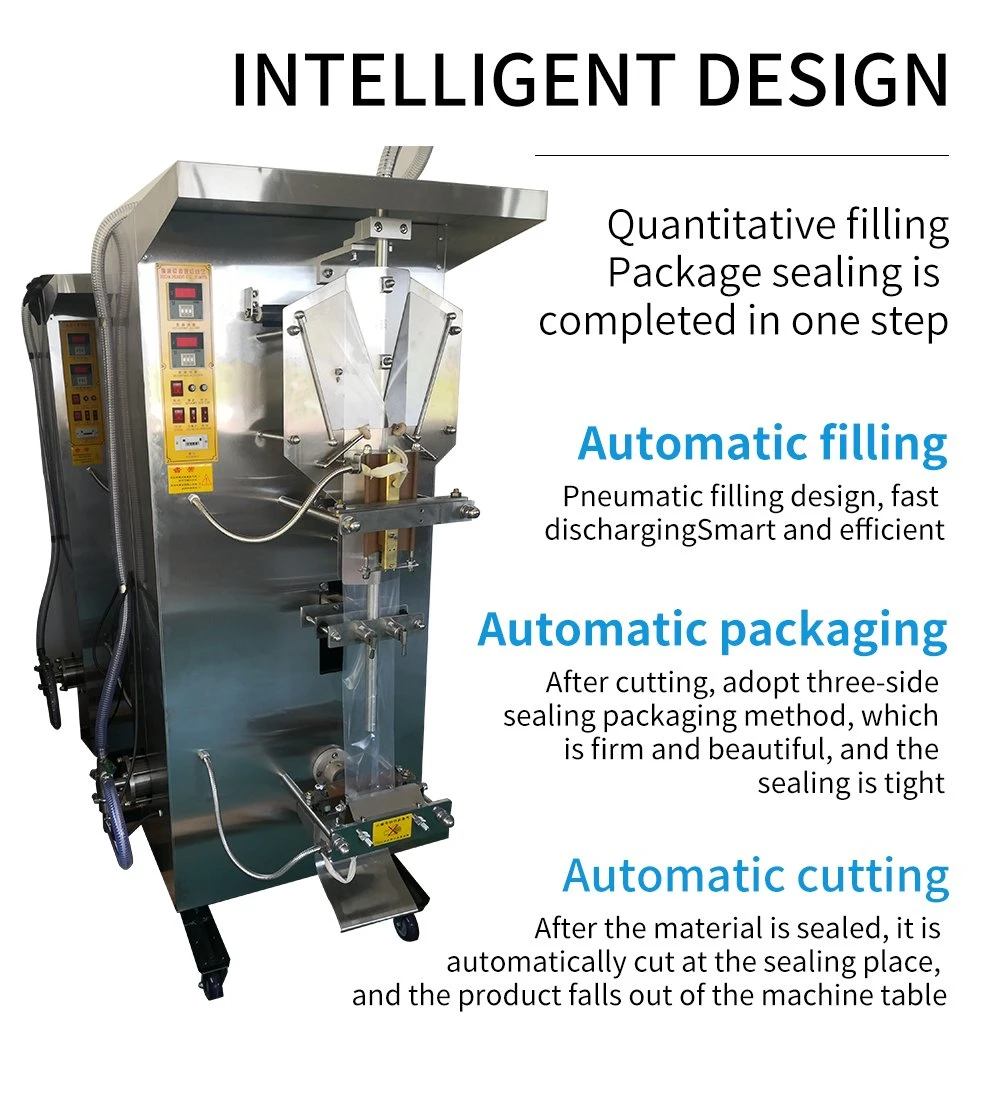 | | |
| --- | --- |
| model | HLD-1000 |
| Length of finished bag (mm) | 50-150 |
| Bag width (mm) | 40-150 |
| Packaging film width (mm) | 100-320 |
| Packing capacity (ml) | 50-500 |
| Packing speed (bag/h) | 2000-2200 |
| Power (kw) | 1.6 |
| Dimensions (mm) | 880* 760* 1800 |
| Whole machine weigh (kg) | 275 |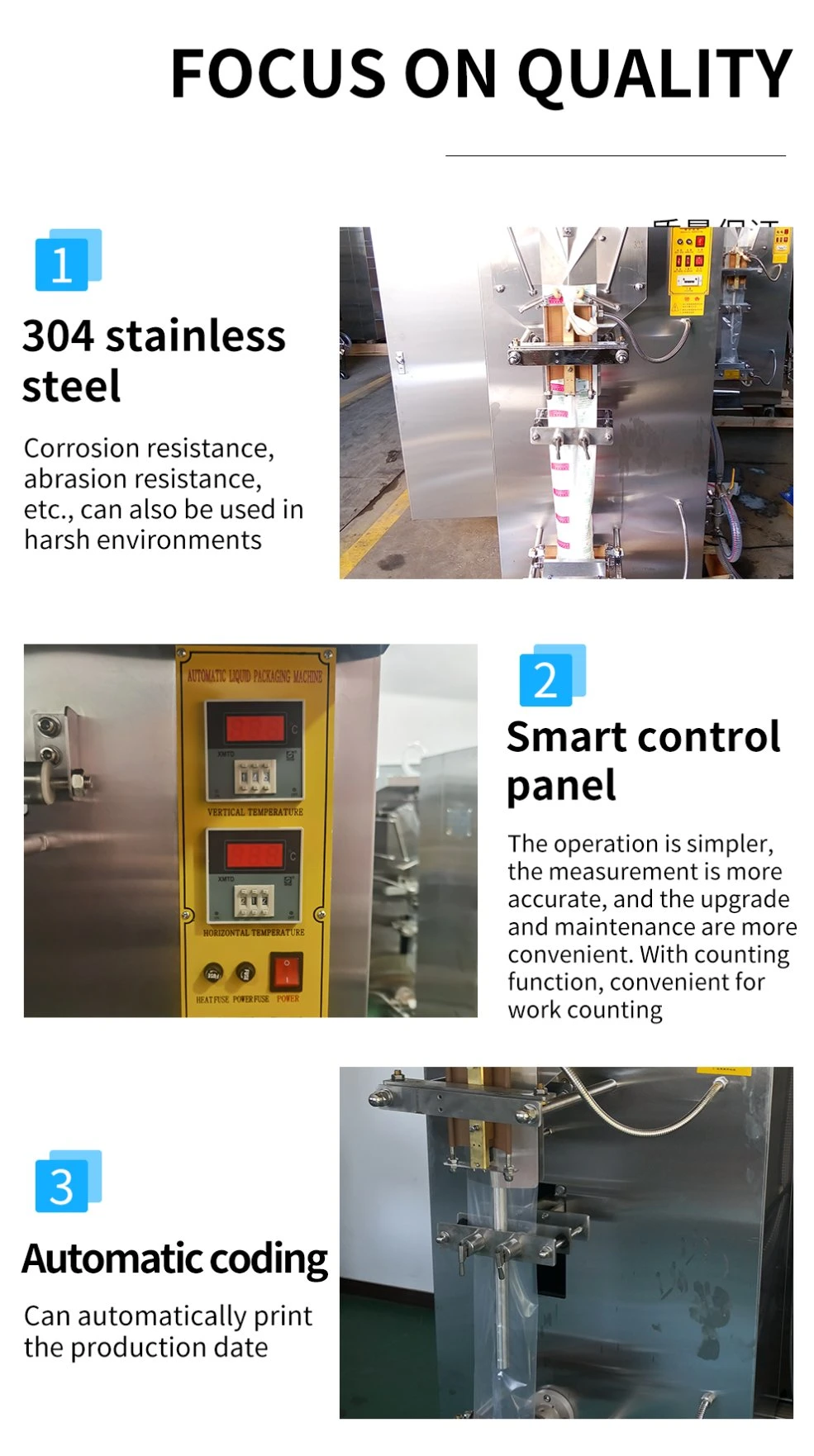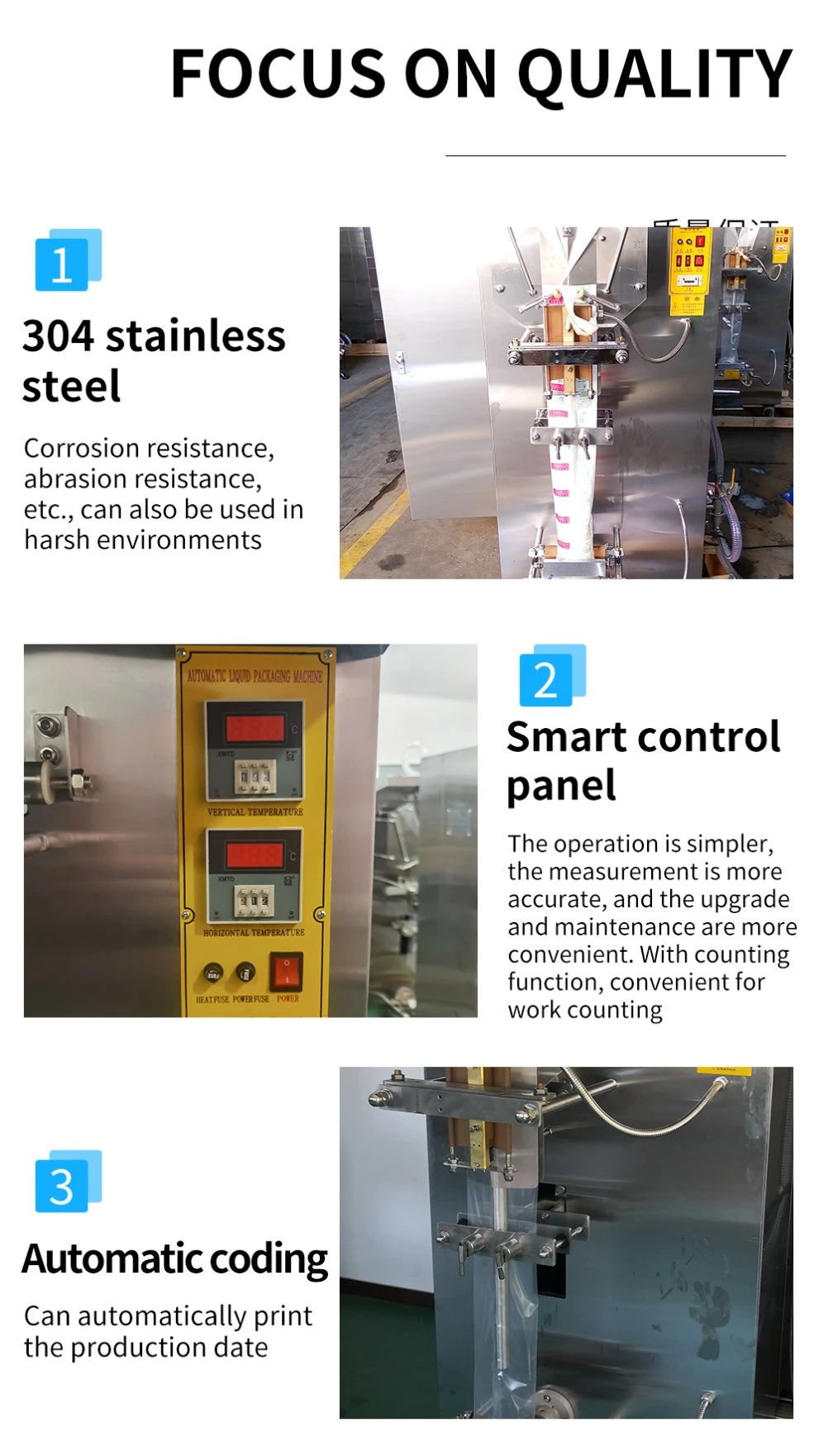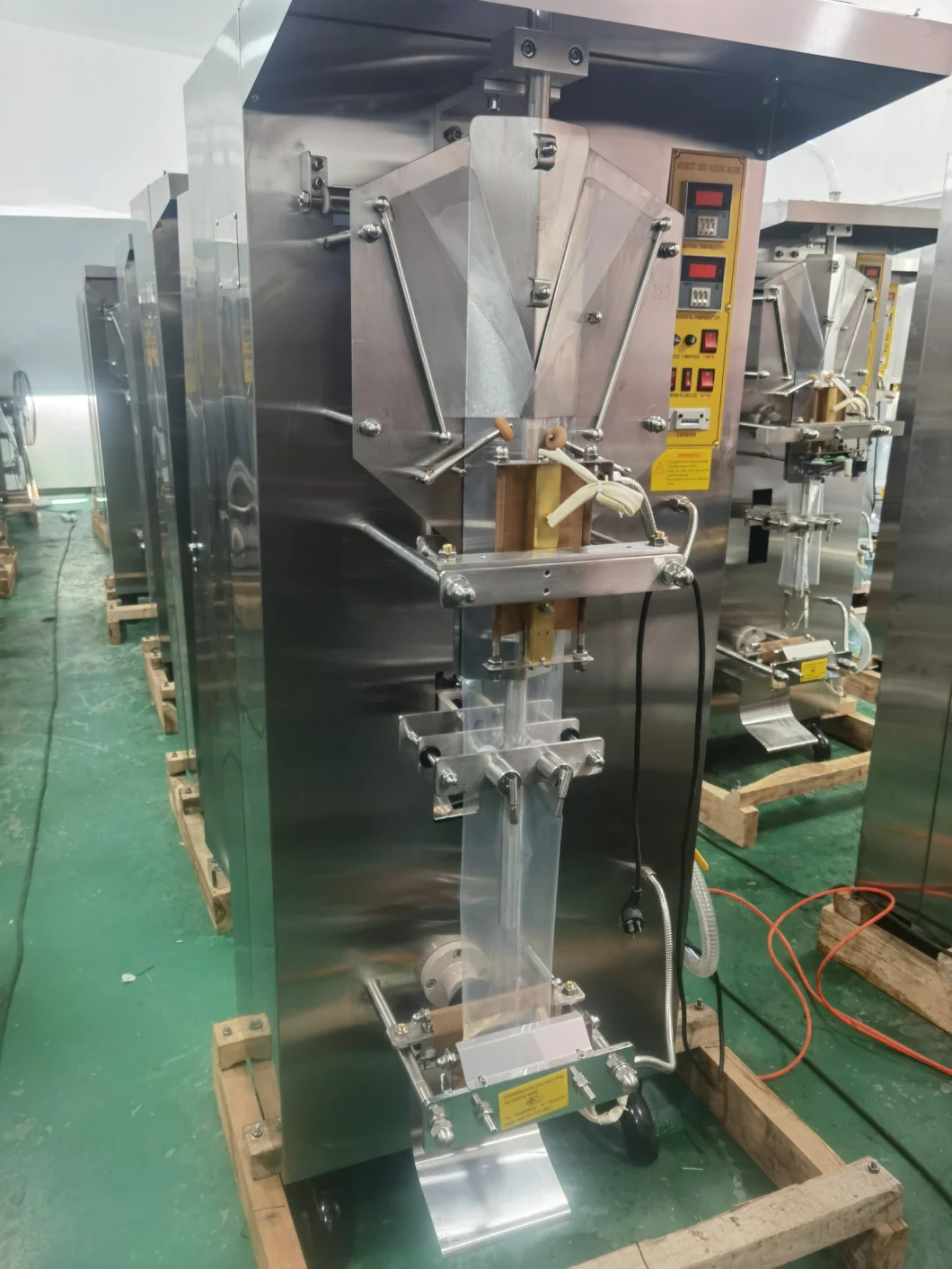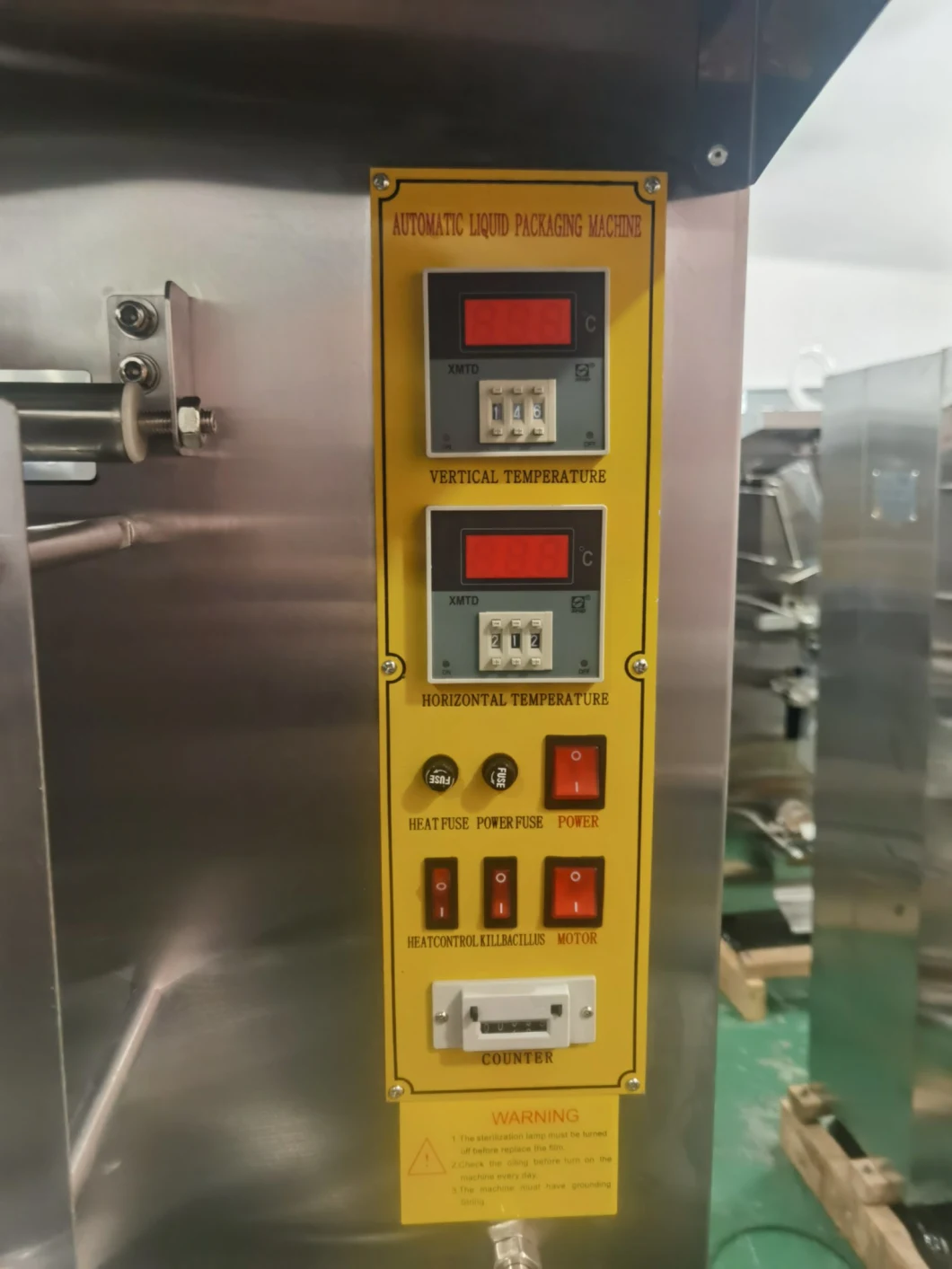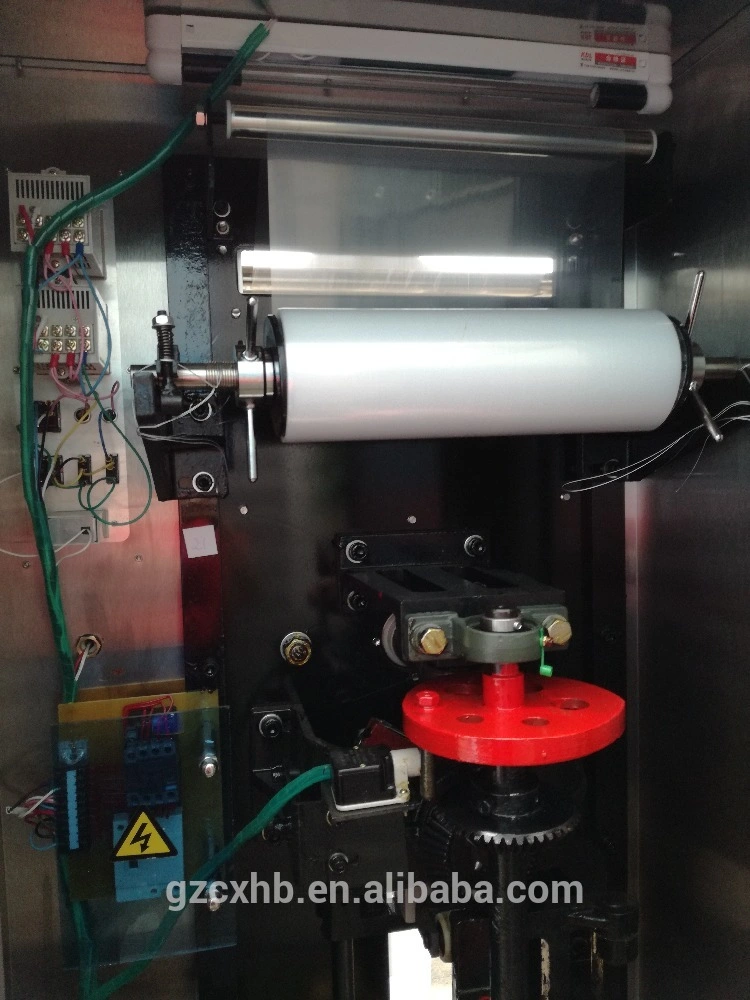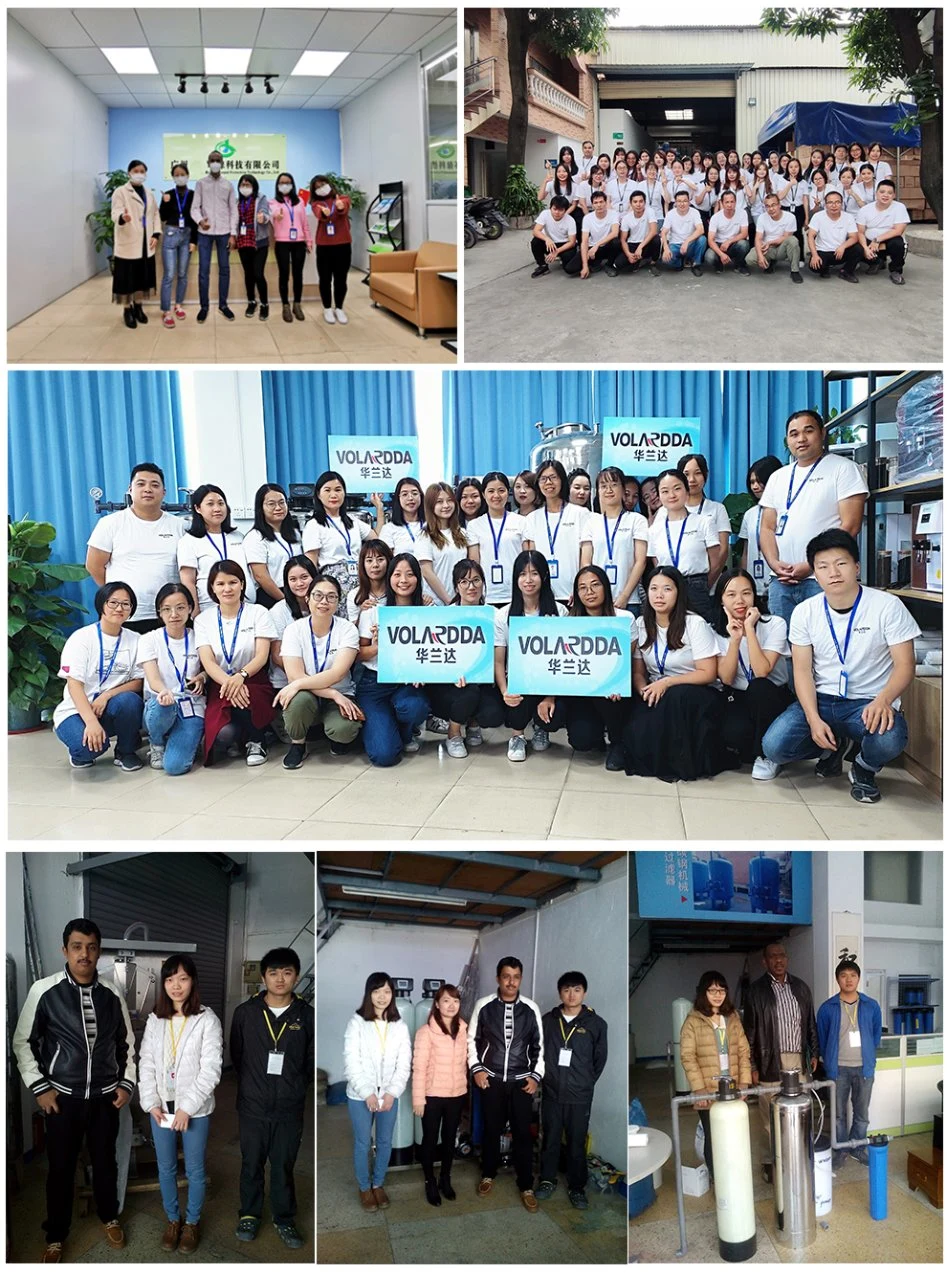 Guangdong Volardda Water Purification Equipment Co., Ltd is located in Guangzhou Nansha Free Trade Zone, and our factory area more than 5,000 square meters. Volardda is a new intelligent direct drinking water equipment technology manufacturing enterprise integrating R&D, design, manufacturing, installation, operation and service.
The main products of our Volardda are: Reverse Osmosis Systems,EDI Systems,Water sterilization products, pure water tank,Drinking Water Filling Machine, Household ro system,Pretreatment Systems, Ultrafiltration Systems, Water Softeners, Water treatment accessories etc. We have provided overall water treatment for more than 1,200 customers solution.
What's more, our products have been exported to Southeast Asia, the Middle East, Africa, America, Australia and many other countries for many years. With profession team, unique design, high-quality products, and perfect after-sales, we can firmly established the Volardda water purification brand !Our packaging is a wooden frame. The packaging is sealed and transported to the port by special vehicles to ensure product safety and quality.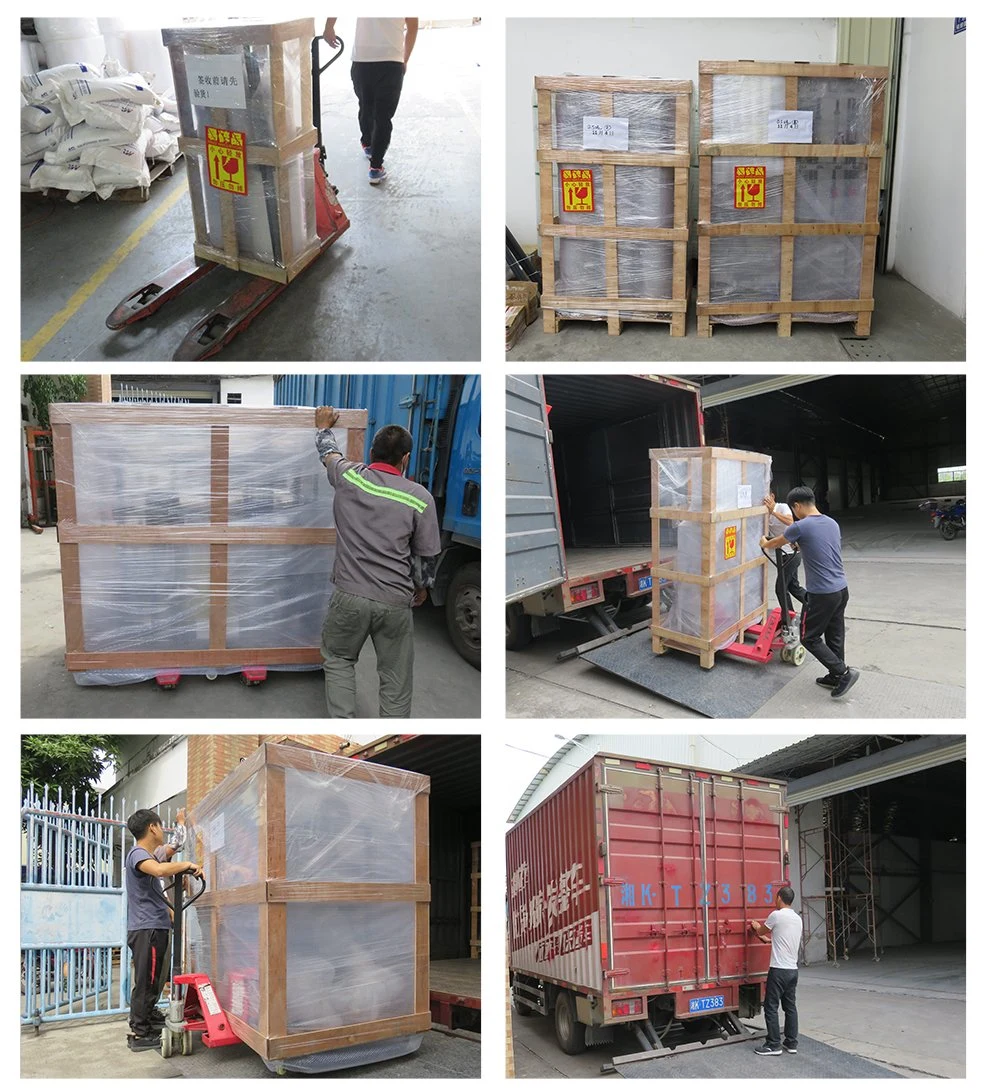 Our packaging is a wooden frame. The packaging is sealed and transported to the port by special vehicles to ensure product safety and quality.
Our Service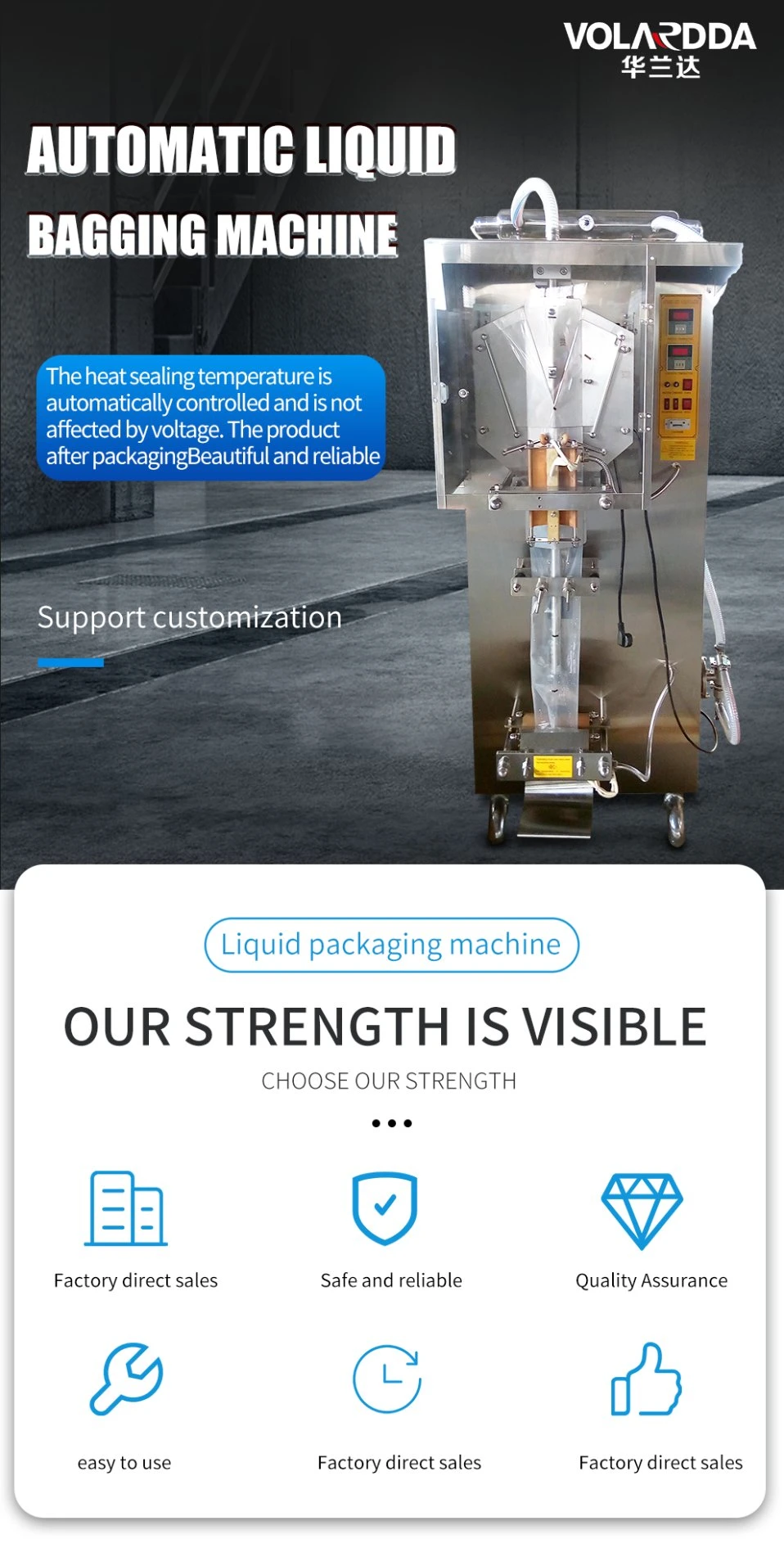 Q: What's the information you need to know before order?
A: what's your raw water ?
B: what's the capacity per hour of the equipment ?
C: What's the application of purifier water ?

Q:Which machine should I choose?
A:It depends on your raw water quality and your requirements.


Q: How long is your delivery time?
A: Generally it is 15-30 days, Depends on your project.

Q:How can you control the quality and delivery?
A:Production strictly according to CE / ISO standards.
B:All our machines will be tested before packaging. wooden packaing is strong and safety for long delivery.

Q:What's your warranty?
A:Our warranty is 1 year. But normally, our machine can work 5 years before repair.

Q: How can I pay you?
A: After we confirmed order, I will send you contract sales with our company bank information. You can transfer money to our company bank account by T/T. Or you can place order online.

Want to know more, come and contact us!