Vibratory Floor Gasoline Concrete Vibration Ruler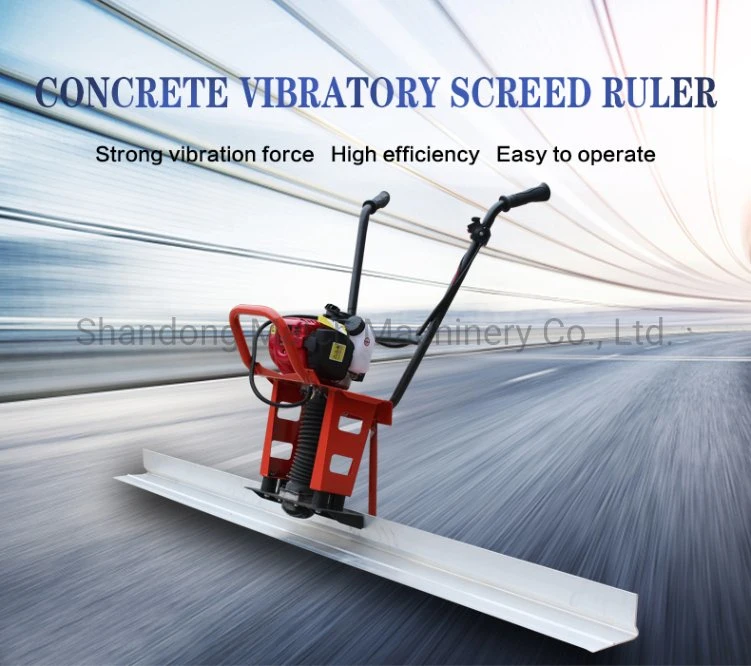 Gasoline power vibrating concrete vibrator with honda engine
Avantage
It replaces the two steps of the roller and scraper in the traditional construction process, which reduces the cost and improves the efficiency.
2. The durable aluminum alloy material is used in the body.
3.The whole machine is light, easy to use, safe, and has high flatness. 4.
The blade is durable, flatness is high, the handle height is adjustable, and it is suitable for operators of different heights.
5. The blade is easy to replace. The length of the bottom plate is 1-4 meters. The standard 2m ruler can be customized. The width of the ruler is 140mm. Meter, 2.4m, 3m, 3.7m, 4.3m, 5m ruler, can be used to meet any working conditions
| | |
| --- | --- |
| Type | MT-GX35 |
| Engine model | HONDA GX35 |
| Engine type | Gasoline engine, 4stroke,OHC, single cylinder |
| Engine power/speed | 0.95kW/7000rpm |
| Engine oil volue | 0.1L |
| Fuel tank volume | 0.63L |
| Drive mode | Flexible shaft |
| Throttle control | Manual |
| Handrail | Height adjustable |
| Vibratory screed model | Magnesium alloy |
| Working width | 2m-6m |
| Machine size | 2500X1115X850mm |
| Weight | 25kg |