stationary fixed concrete batching plant mobile concrete batching plant
YHZS series mobile concrete batching plant is a new type of movable concrete batching plant, which is developed by Saintyol DAWIN concrete batching plant manufacturer with advanced technology based on collecting characteristics and using experience of similar domestic and foreign products. It has the same function as stationary batching plant. The obvious difference exists in its mobility . The equipment has reasonable layout and compact structure. Mobile batching plant integrates collecting materials, weighing, lifting, conveying and mixing processes.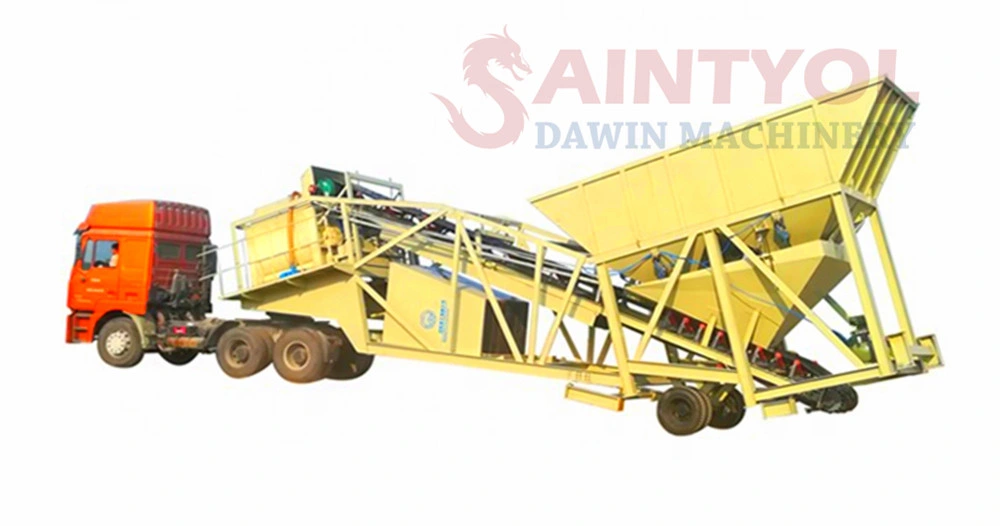 The whole processes are concentrated on the trailer, which can be pulled to various construction sites. Therefore, mobile concrete plant is popular among customers at home and abroad. Up to now, our mobile batch plant has been put into use all over the world, including Uzbekistan, Philippine, Botswana, Indonesia, Pakistan, Sri Lanka etc. The customers are so satisfied with our products that some of them promise to purchase once again. As one of the professional concrete batching plant manufacturers in China, Saintyol DAWIN machinery is confident to provide you mobile batching plant with high quality and good performance. It must be your best choice for construction projects.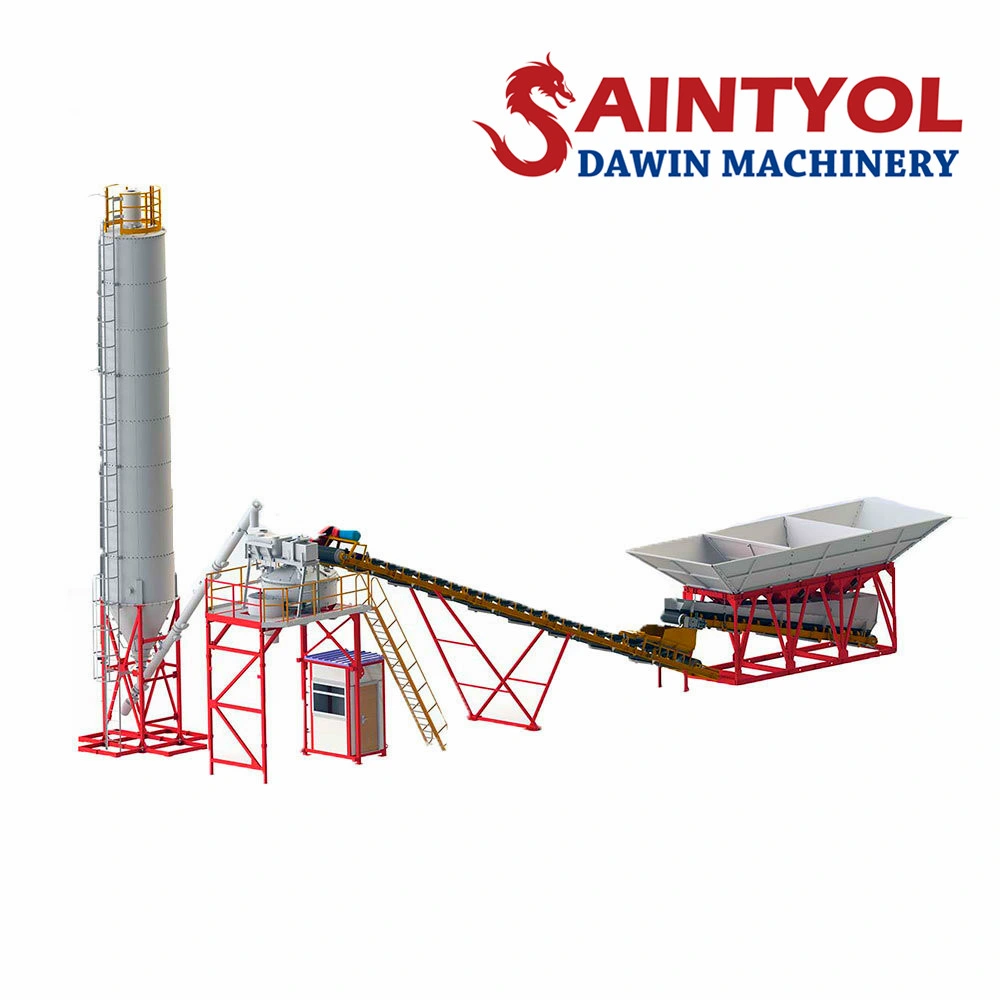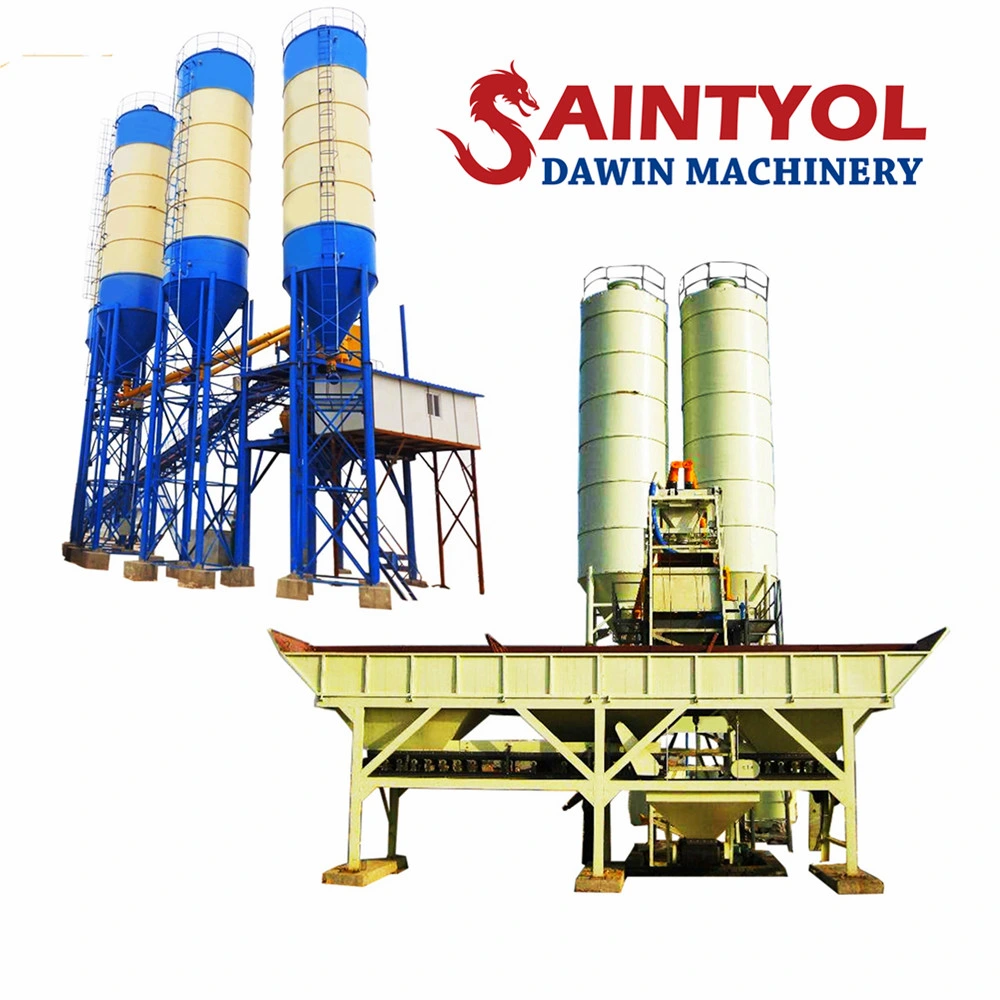 Mobile concrete batch plants are applied in the construction sites of
building, bridges, roads, wharfs
and so on. Sometimes, it is widely used in special large-scale concrete work for emergency repairing sites. It can blend the concrete mixture evenly and quickly, which can ensure efficient concrete supplying. Besides, the characteristic of movable can ensure construction sites changing easily.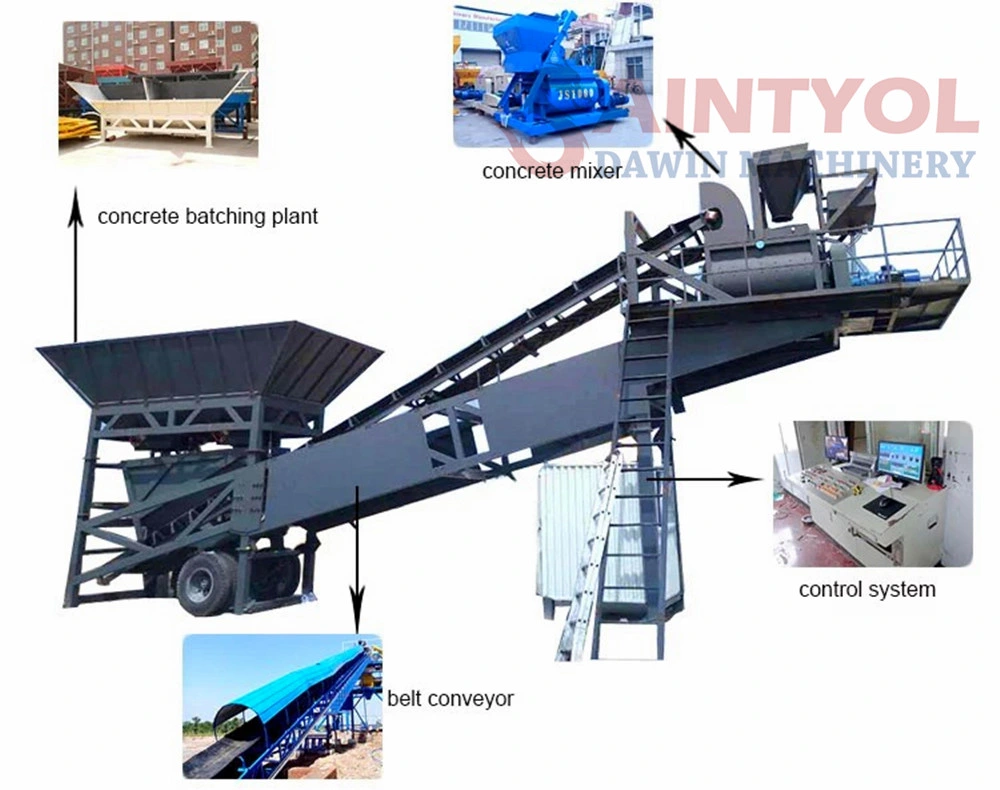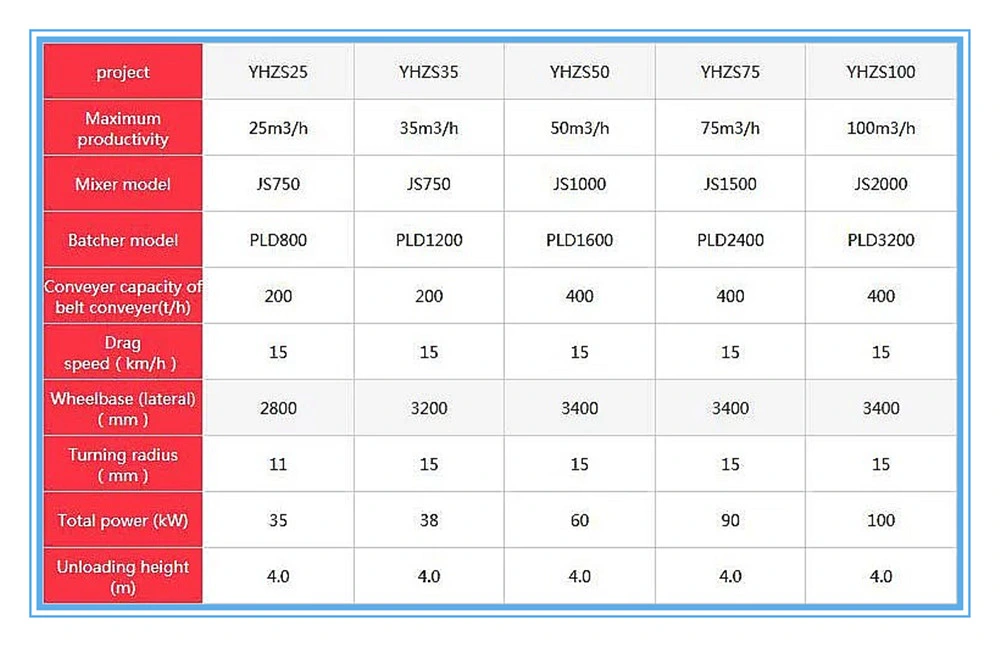 Special Features Of Mobile Concrete Batching Plant For Sale
Movable chassis
. Compared with stationary type, the mobile batching plant is equipped with chassis, which can be dragged by tractor or trailer. The movable tires under the chassis can bring convenience to changing construction spots.
Belt type and skip hoist feeding
. Almost all mobile concrete plants adopts belt material feeding. But new type of YHZS40 batching plant feeds aggregate through skip hoist. As for belt type, in general, the belt of mobile batch plant is shorter than stationary concrete batching plant.
Weigh system
. Aggregate weighing adopts belt weighing. When the aggregate in the concrete batching machine flows to the belt, it is weighed on the belt due to equipped weighing sensor. What's more, the aggregate, cement, water and admixture respectively has its own electronic weighing system. Accurate weighing can be achieved through advanced control mode and mechanical structure. In addition, the imported components can improve precise weighing.
Efficient Concrete Mixing
. Mobile concrete batch plants for sale adopt JS series compulsory twin-shaft concrete mixers. It only takes a few seconds to produce uniform concrete, higher than the general mixer. The lining and blade material are wear-resisting with optimal angel design, good mixing quality, fast and long service life. It can ensure concrete mixing uniformly.
Electric control system:
Mobile concrete plant for sale adopts PLC programmable control and computer control system. The system has the functions of automatic measuring, conveying, lifting, mixing and discharging. The adoption of computer control system makes the operation easier. The computer control system can be operated automatically and manually. The operation of each component can be monitored clearly through the dynamic panel. Meanwhile, the report data can be stored and printed, which is very convenient for production scheduling management.
The YPLZ series mobile concrete batching plant is the state of the art equipment independently created by our company after acquiring the foreign and domestic technologies and combining them with years' production experience of our own.It is an ideal mechanical device for road,bridge, dam, airport, and other mobile construction sites as well as building construction base.
The plant integrates all of its main functional parts onto a trailer. At the weigh hopper, the ingredients are collected and electronically weighed. Raised up by the lifter, the ingredients then are sent into the mixer for sufficient blending. Thanks to the trailer, the plant can be conveniently transferred to other job sites. It is easy to install and use.
The modular design without foundation and commissioning enables convenient and quick installation. It only takes three to five days from installation to run the plant. All necessary facilities such as: control room, laboratory and maintenance room are equipped. Cost effective. An ideal choice for engineering. To be convenient for long distance transportation, the mixing plant can be divided into several standard modules, and then be packed into containers. It has been applied for the National Invention Patent and has been accepted. The application no. is 200810172273.9.
Technical characteristics of mobile mixing plant:

1.Adopt twin-shaft compulsory concrete mixer as the assorted mixer, which has obvious characteristics like fast mixing, wide mixing range and good quality concrete, etc to satisfied the customers' requirement.

2.Adopt the technology of "click to supplement", which has been awarded the national patent(Patent No. ZL200520022852.7), to ensure the accuracy of dynamic measurement no more than +/-1%.

3.Adopt additive weighing scale pneumatic conveying equipment, applied for national patent, to measure and convey additives, which completely avoid the quality accident caused by the failure of additive system.

4.Assemble two suits operating devices (touch-screen and computer), and can be operated manually, semi-automatically and automatically, which ensures the working reliability.

5.The fully accounted concrete technology enable perfect functions like :unique ratio deposit, self compensation of aggregates drop, scale-owing, alarming and revising of scale, on-line modifying formula, data saving and query, and report-print and so on.

6.Ued pre-debugged air plugs to ensure quick installation and commissioning.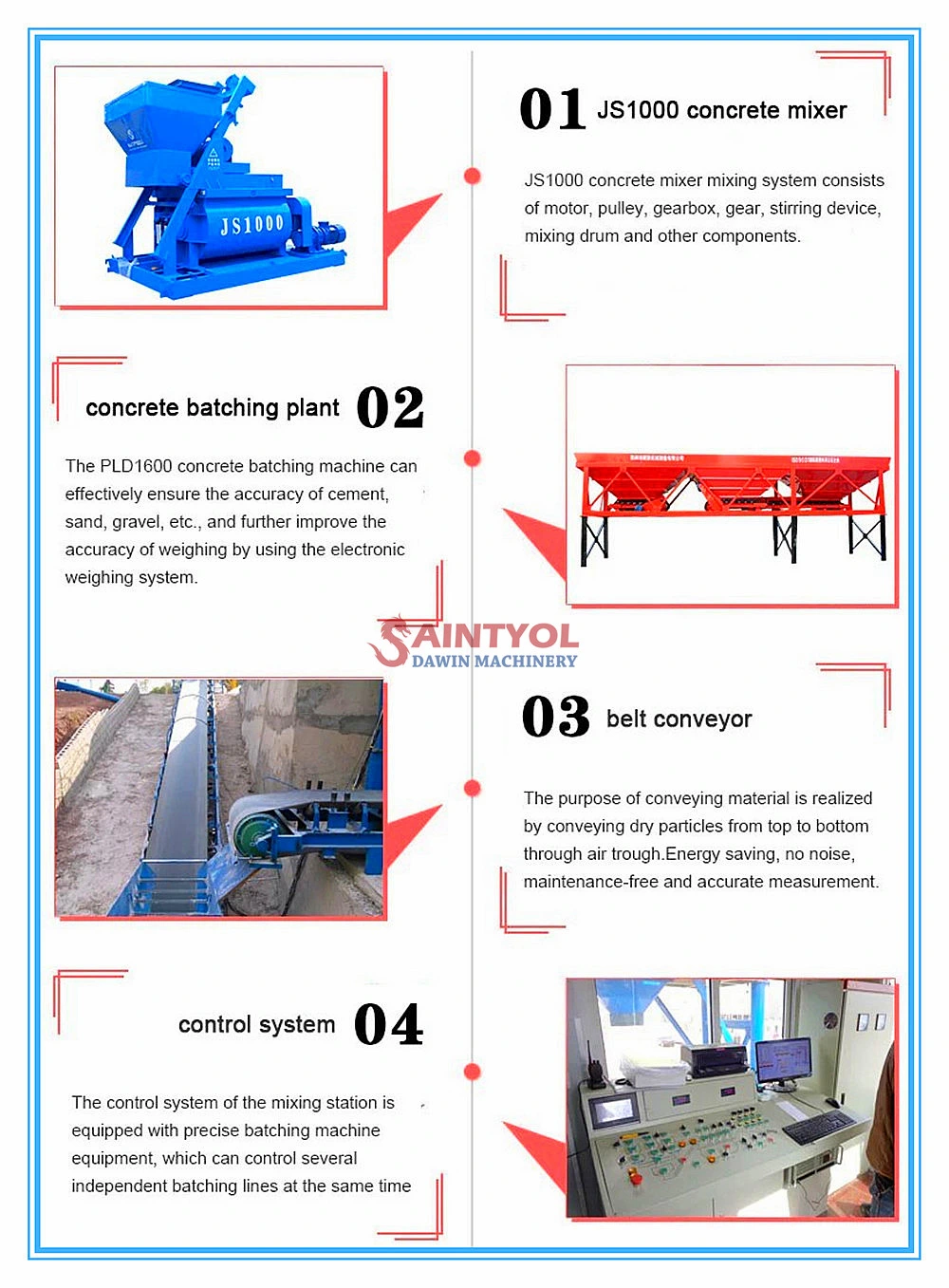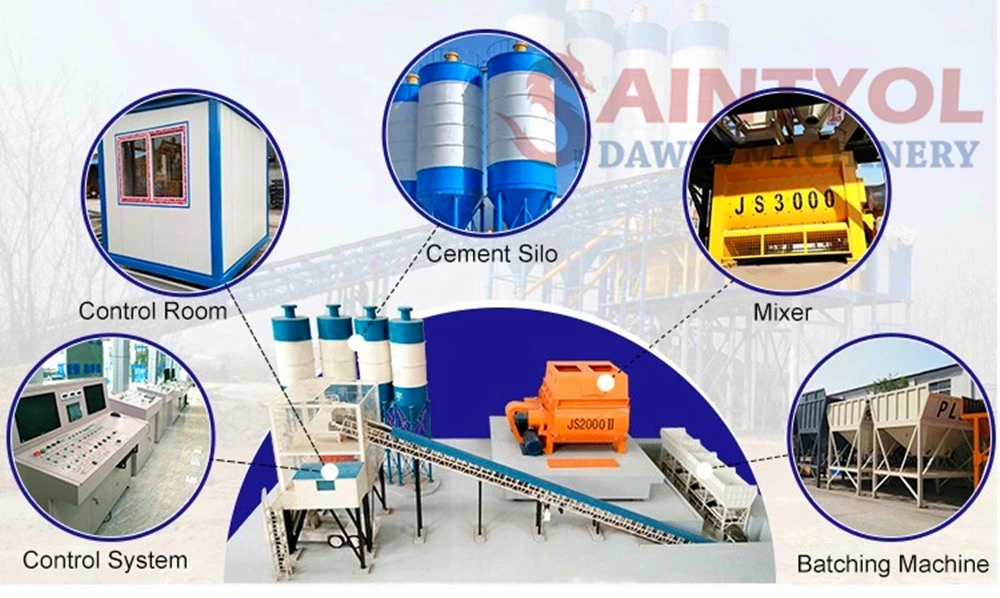 Features of belt conveyor concrete batching plant
Combining our domestic costruction situation, we designed the belt conveyor concrete batching plant. It adopts the world popular quick installation modular structure, efficient imported concrete mixer, computerized controlled system and environment friendly design. this series of concrete batching plant is mainly used for porjects like bridge, water conservancy, airport, dock and premixed concrete product factories where large quantity of concrete is needed.
Aggregates batcher
1. The batcher,with 3-5 aggregate hoppers,can be designed as per customer's requirements. There are independent weighing hoppers and belt conveyor under the aggregate hoppers that could be designed as steel structure type, underground and half-underground types. the aggregates can be fed into the aggregate hoppers by wheel loader or belt conveyor;
2. The hopper discharging gates and discharging speed are controlled by computer via cylinder.After weighing, the aggregates will be conveyed to the transitional hopper above the mixer.
3. Each of the aggregate is weighed individually, the weighing accuracy is guaranteed. The accuracy of aggregate proportional ratio is realized through computer controlled system which automatically add the aggregates if there is a shortage of them, it also warns us if the aggregates are overweight.
Aggregate conveyor
1. The weighed aggregates are conveyed into the transitional hopper by belt conveyor. We can use trough belt conveyor to save place.
2. The closed aggregates belt conveyor are designed to protect the machine and enable the plant to work under all-weather condition.
Mixing tower
1. Modern modular structure designed mixing tower. All parts of the mixing tower are connected by bolt and nuts structure. it is easy and fast to install and dismantle the whole plant.
2. It is equipped with maintenance and repair platforms and stairs.
3. Closed structure design, closed aggregate belt conveyor and external 360 degree lighting enable the all-weather operation.
Water and liquid weighing
1. Water weighing and supplying are controlled by precise weighing sensor,pneumatic butterfly valves and spherical valves, which guarantee the weighing accuracy;
2. The pressurized water by water pump can spray out and mix with the materials rapidly in the mixer, it can also wash the mixer thoroughly at the same time;
3. The liquid additive weighing system, with weighing sensor has unique leakage-proof device. the liquid additive is mixed with water and sprayed out in the mixer;
Cement and fly ash weighing and conveying
1. Cement and fly ash are stored in cement silos, conveyed to transitional hopper by screw conveyor,weighed by high-precision weighing sensor,controlled by computer.
2. The weighing hopper will discharge the cement and fly ash into the mixer by opening the pneumatic butterfly valve, when the weight reaches the set perimeter and the computer will stop the screw conveyor.
Control system
1. Automatic and manual control are available;
2. Dynamic display of the production process and monitoring in real time;
3. Saving the data of production parameters in the computer, printing of the daily, monthly and yearly statistic reports of production.
4. Weighing accuracy:automatically re-feeding if there is a shortage of aggregate and warning if the aggregates are overweight.

Concrete batching plant applications: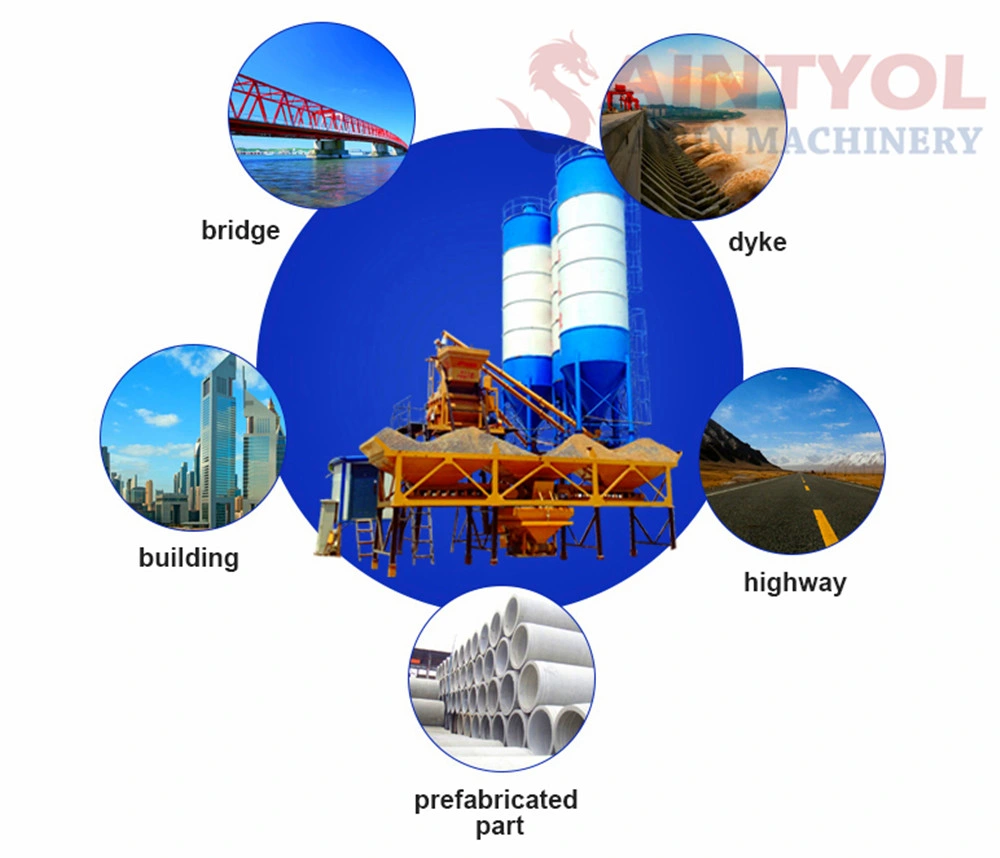 Saintyol DAWIN Machinery is a company specializing in the research, design and production of construction machinery for nearly 20 years. We provide the most reasonable solution according to the special demand from different customers. Our main products for construction machinery are as follows: Concrete mixer, concrete batching plant, diesel concrete mixer, concrete pump, sand so on. With several researching and producing bases in China, we can provide the powerful technical service and upper quality machinery for the clients all over the world.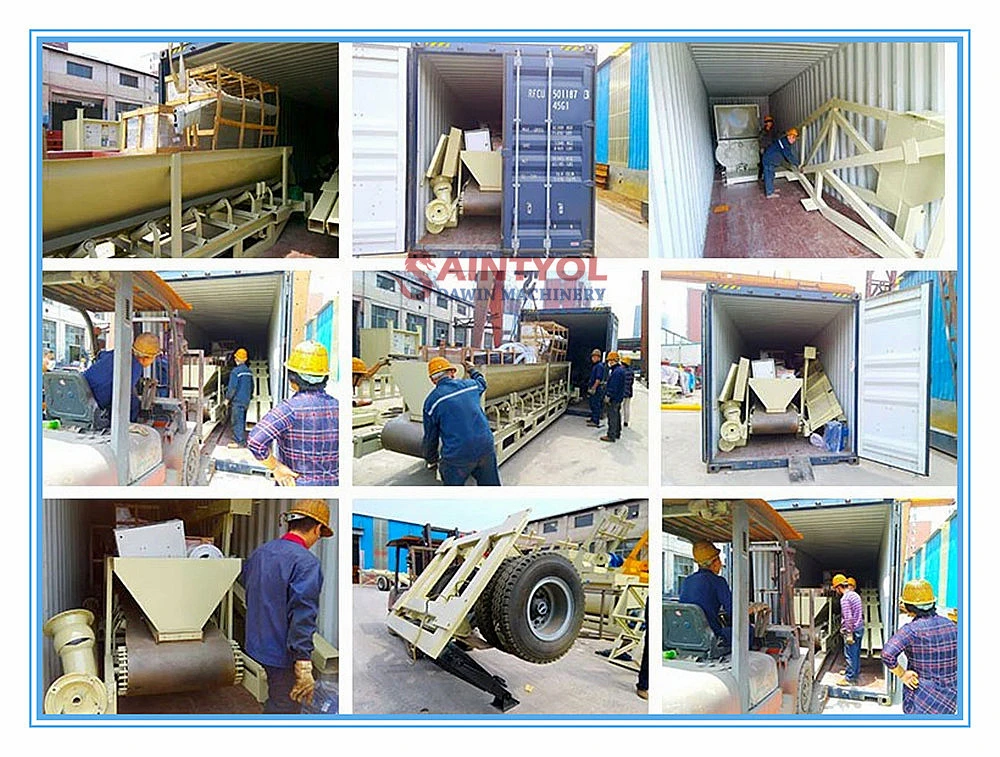 We take care of your order!


1. Best manufacturer in North China.
2. A factory with over 20 years' experience.
3. Professional teamwork of every process.
4. Competitive price and perfect quality.
5. Efficient after-sale service.


SAINTYOL DAWIN Machinery Answers:

Q: How many kinds of trailer mobile concrete batching plant you have?
A: We have all models of trailer mobile concrete mixing plant from 20 m3/hr to 90m3/hr or customized as your reuqirement.

Q: Do you have smaller mixer truck that could be working together with mixing plant?
A: Yes, We have 4m3 6m3 10m3 and others series.

Q: What is the configuration?
A: For exporting, most of the components are world famous top brands such as LOVOL, DEUTZ, Siemens, Rexroth, Kawasaki, Schneider, Omron, LG, Eaton, Manuli, Parker etc. The configuration could be customized according to client's requirements.

Q: Is engineer available for training and after sales service?
A: Yes, our oversea engineers team are standing by for oversea service. Some engineers could speak English.

After-sale Service
1. May enjoy the life-long service after you buy our products.
2. Training the operator for free.
3. Under the condition that foundation, water source, power source, aggregate, hosting
Equipment, auxiliary staff is ready. Engineers are available if you need.
4. Certain quantity stochastic tool will be provided while delivering goods.
5. Within 48 hours service will be available according to different regions after received
The telephone.
6. For exported products, Our company sends the constructor to help to operate and
Management equipment, time according to your needs. The related fee will be undertaken
By buyers.
7. Promptly provides the fittings according to users' demands, handles for the user consigns
For shipment.
8. All products (easy worn parts not included) loss caused by non-human factors will be
Free of charge for half a year.
9. Provides the technology advisory service as necessary.
10. Please contact me via telephone when you have any problems with the plant.

Saintyol DAWIN Machinery Related Concrete Pumping Machines: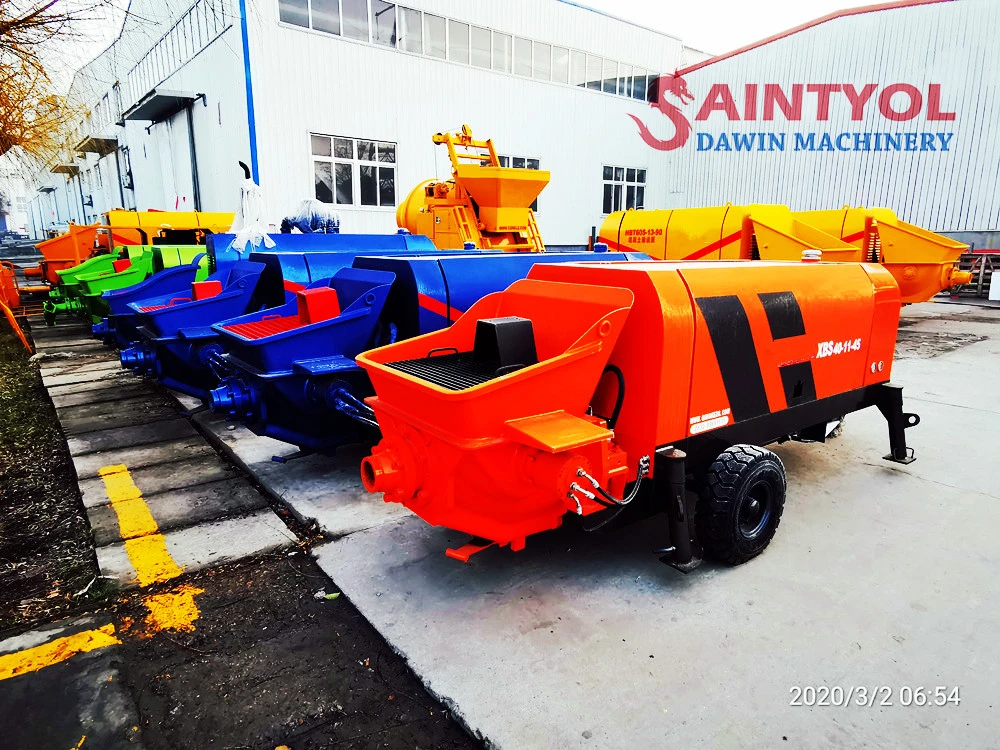 Dear Friends:

Welcome to our website and hope our trailer mobile concrete batching plant will make you satisfied. We think creatively, design bravely, manufacture precisely and loyalty to our customers. And we have our own factory. So We can produce the products, according to customer requirements.

Construction for prosperity!

Yours sincerely
Saintyol Dawin Machinery