Dust Control Fog Sprayer Equipments Water Mist Cannon Machine

Discription of Fog Gun Machine:
Dust mist cannon machine water into 50-200 micron water mist, the formation of high-range long-range jet air, combined with the dust particles to increase its weight, so that dust particles sink in order to achieve the role of governance haze and dust suppression. It can be rotated 360 °, there is no blind spot water spray, spray evenly, less water consumption, there is no large area of water, can achieve the desired dust effect.

Structures:
Water tank, water pipe, plunger pump, nozzle, fan, generator set (gasoline or diesel), horizontal steering, vertical pitch, electric control box, remote control, etc.
Application of 50 meters industrial automatic dust fog cannon sprayer machine:
1.Environmental protection: City pm2.5/10 dust control, Disinfection epidemic prevention, City Demolition,Odor control at waste disposal & landfill sites,Humidifying, cooling and dust control on construction site, etc.
2.Industry dust suppression:Open pit mining blasting/digging/ load&transport dust , Port material storage yard dust , Wharf Bulk Ships loading&unloading dust, Iron & steel plant stockpile & slag disposal dust, Power plant coal storage yard dust, Conveyor belt blanking point dust, Coal mine crushing dust,Haul roads dust,Storage and handling of bulk materials dust, etc.
3.Agriculture protection:The sprayer can used for pest control in agriculture, orchard, garden areas,farmland, forest, road greening, grassland, pasture ,etc.
Features of Fog Cannon Machine:
1, far range, covering a wide range, high efficiency, precision spray.
2, the spray of fog particles is very small,combined with the dust, forming a moist mist,to suppresses dust.
3, supporting power is flexible, can be three-phase 380V of electricity. Diesel generator sets can also be the supporting power supply.
4, can be fixed in the concrete pouring platform, and also supporting diesel generator set installed in the transport vehicle.
5, flexible operation, remote control or manual control, and free to adjust the level of rotation and spray angle, ensure safty and reliable.
6, water consumption compared to other dust suppression equipment (spray gun, sprinkler) can save 70% -80%, and the water mist coverage area is far widely than other dust suppression spraying equipment.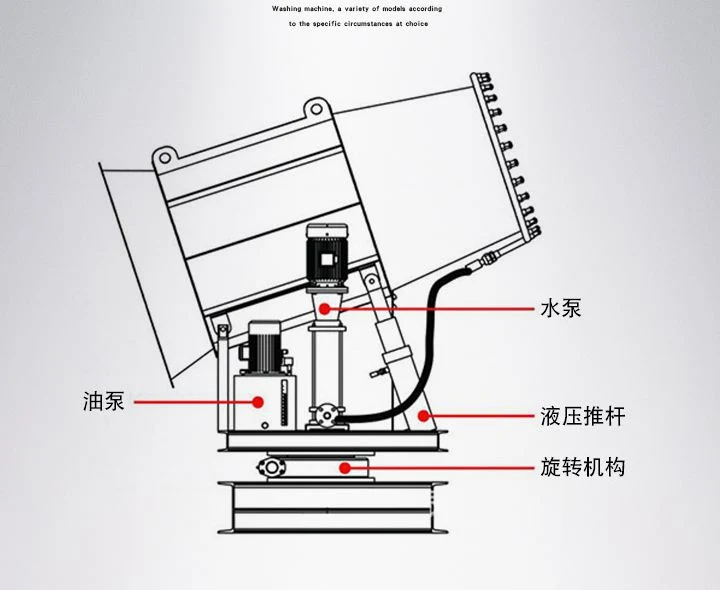 Parameters:
Parameters of 50m manual rotating fog gun

Wind drum diameter

700

Wind drum rear diameter

930

Wind drum conical bucket orifice diameter

500

Wind drum length

2.1m

Wind drum guide plate lengthened

8pieces

Wind blade diameter

680

Number of Wind Blades (Double Wind Blades)

8

Water ring stainless steel sprinkler(Nozzle)

26

National Standard for Wind Turbine Motor

15KW

Pump type

100Model

National Standard for Pump Motor

5.5KW

Water tank capacity

400Kg

Whole volume

1.8*1.2*2.1 M

Water intake mode

water pipe injection

Electronically Controlled Box Panel

Hand-held

Parameters of 50m automatic rotating fog gun machine (shape and specifications are manual)

1. Installing Rotary Motor

2. Installing Electronic Control Assembly

3. Installation of remote control

4. 0-360 degrees of arbitrary adjustable rotation

5. Remote control distance 50-100 m

6. Adding antenna can increase remote control distance
Parameters of 40 m manual rotating fog gun

Wind drum diameter

500

Wind drum rear diameter

575

Wind drum conical bucket orifice diameter

300

Wind drum length

1.5m

Wind drum guide plate lengthened

6 pieces

Wind blade diameter

480

Number of Wind Blades (Double Wind Blades)

8

Water ring stainless steel sprinkler(Nozzle)

12

National Standard for Wind Turbine Motor

5.5KW

Pump type

60Model

National Standard for Pump Motor

3KW

Water tank capacity

230Kg

Whole volume

1.3*1.0*1.7 M

Water intake mode

water pipe injection

Electronically Controlled Box Panel

Hand-held

Parameters of 40m automatic rotating fog gun machine (shape and specifications are manual)

1. Installing Rotary Motor

2. Installing Electronic Control Assembly

3. Installation of remote control

4. 0-360 degrees of arbitrary adjustable rotation

5. Remote control distance 50-100 m

6. Adding antenna can increase remote control distance
Pictures Showing of Fog Cannon Machine: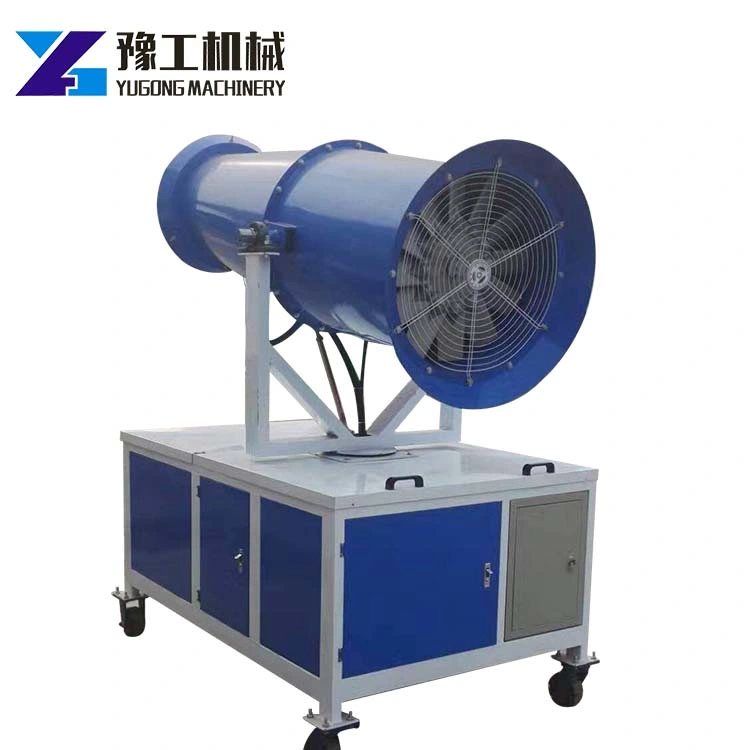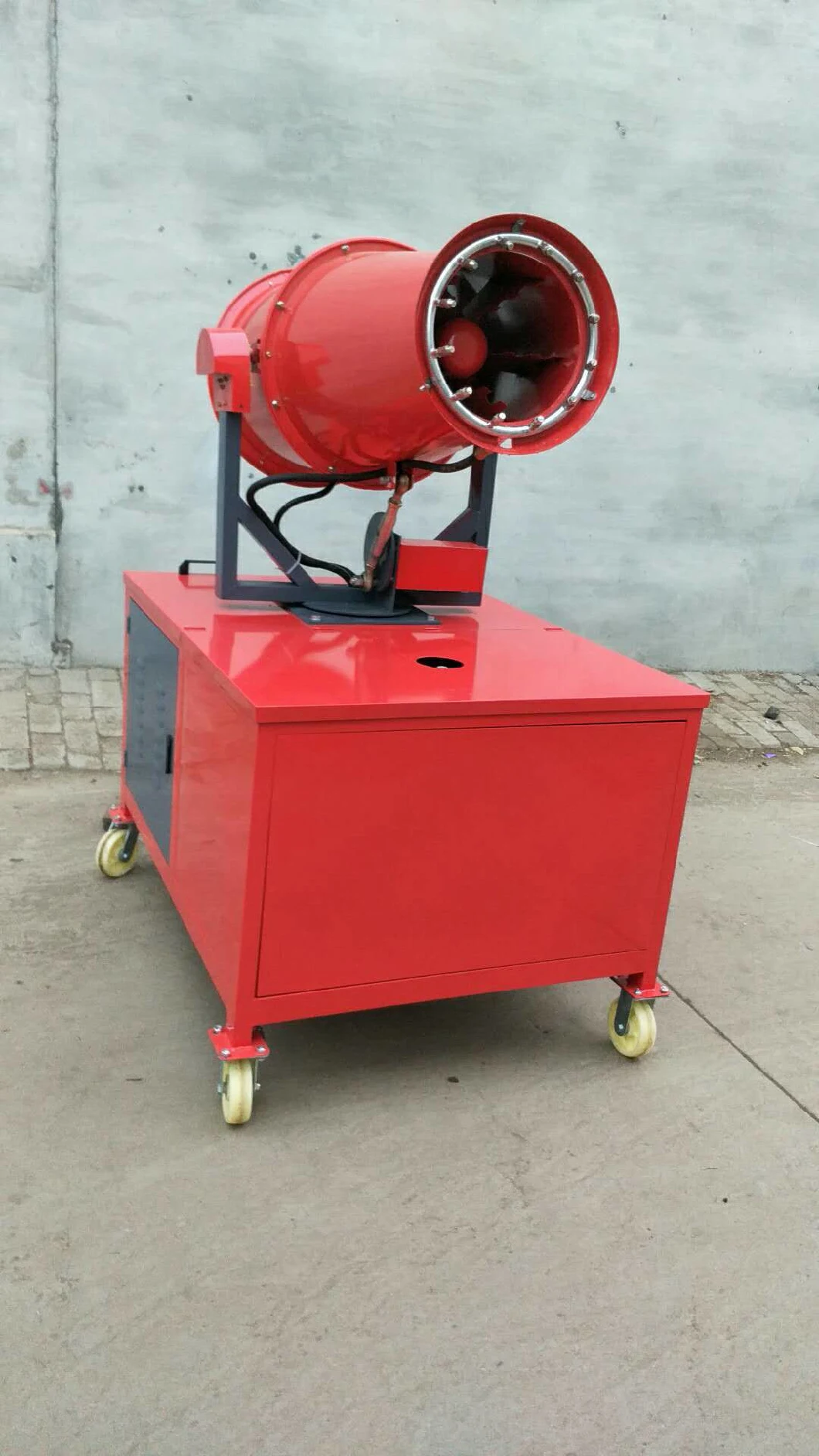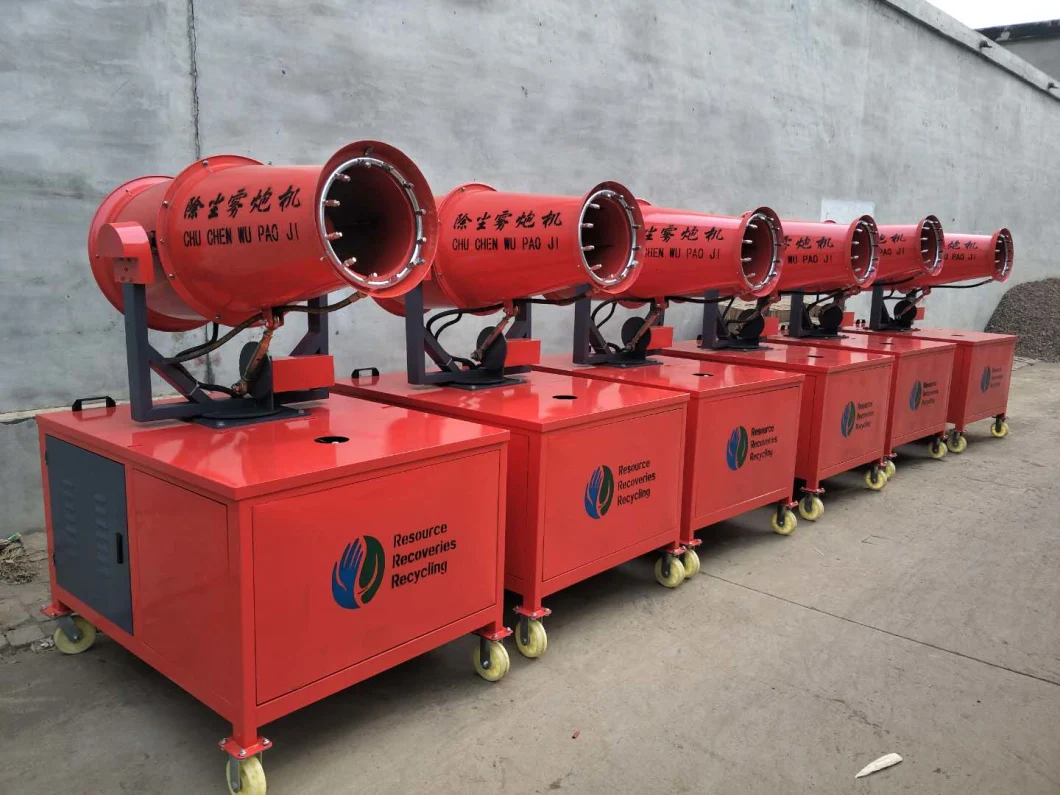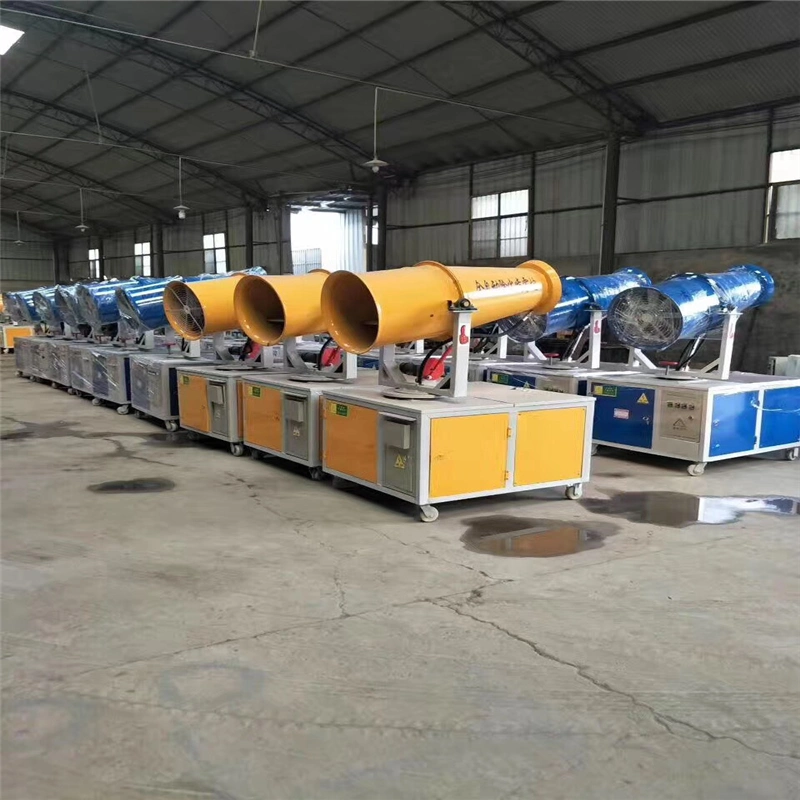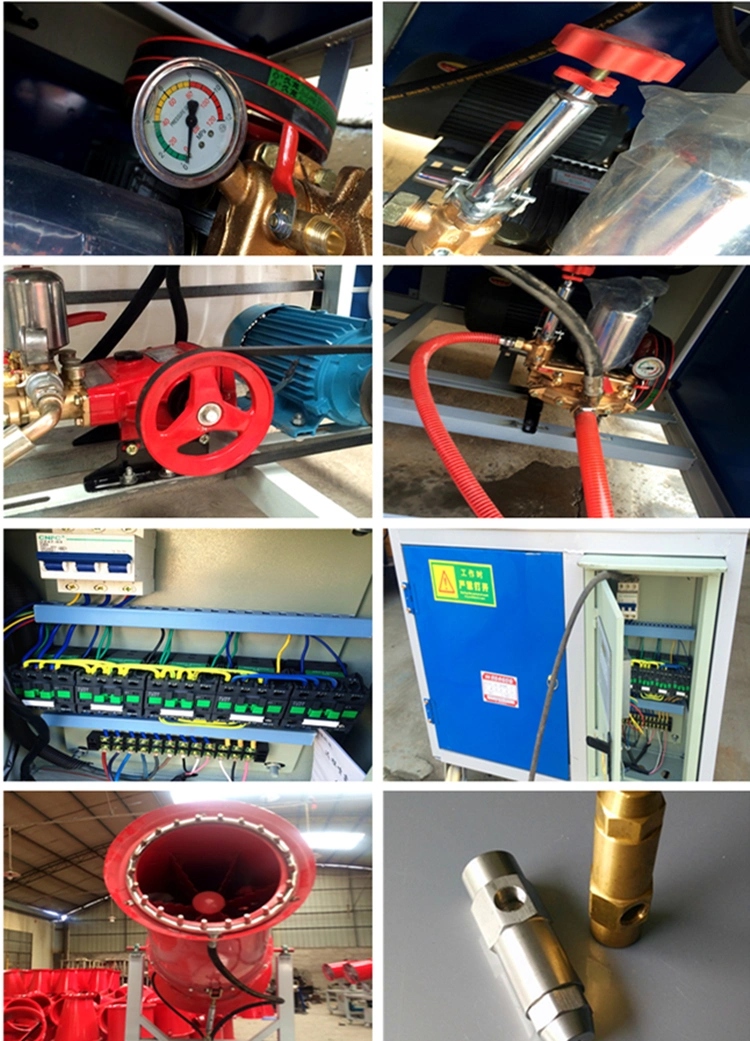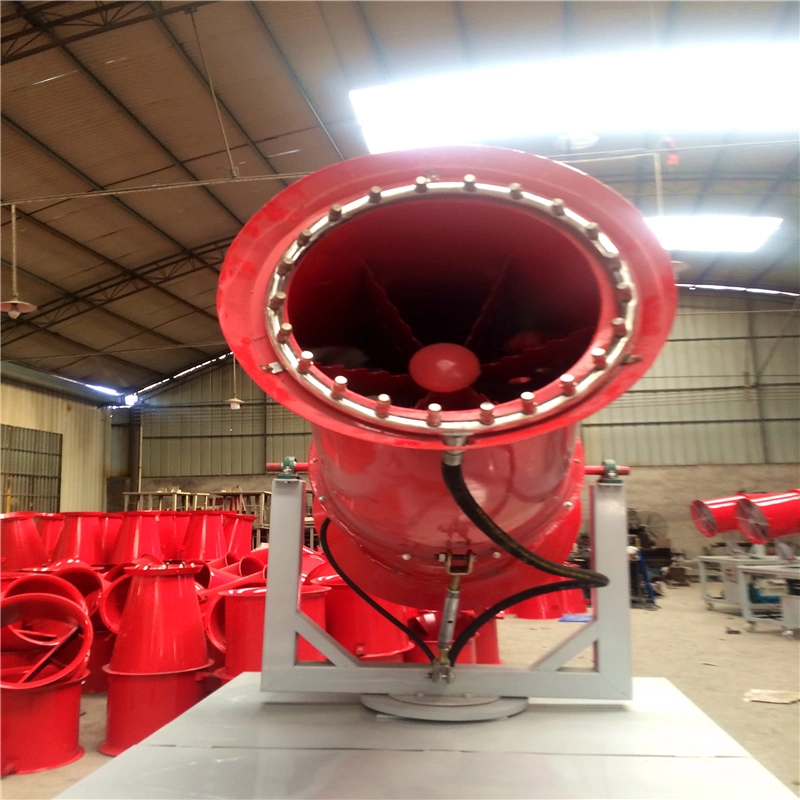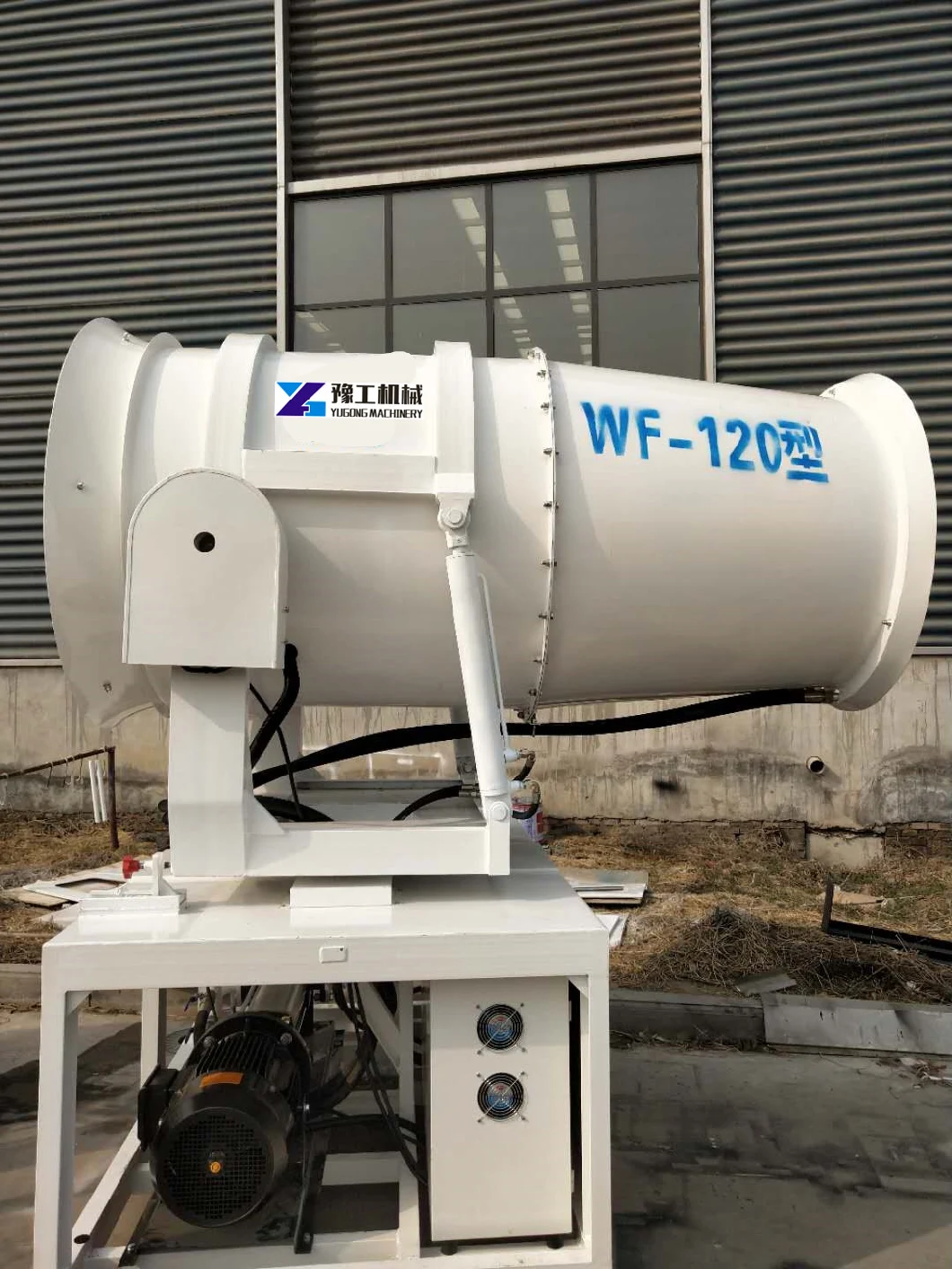 Company Informations: