Product Description
1. Shotcreting for tunnels, hydro-power engineering, mines, underground engineering, civil engineering and slope stabilization, etc.
2. Artificial soil seeding for no soil surface, such as rock, sand, and for no fertility soil surface.
3. Refractory spraying and repair for industrial kilns or kilns' inner liner.
Features:
1. Non-adhesion going-through rotor with new material chamber, completely eliminate bonding and blocking during operation so as to reduce clearance and maintenance period.
2. Thin follow conveying method with vortex flow, so the spraying flow is even, continuous and steady, to improve the shotcrete quality.
3. Four-point clamping device make it easy to adjust the press between sealing plate and rotor disk so as to no air and dust leak and prolong consumption parts life.
4. Particularly used for dry, damp mix and steel (polymer) fibre reinforced shotcrete.
5. Three drive models: By Electric motor, air motor or diesel engine.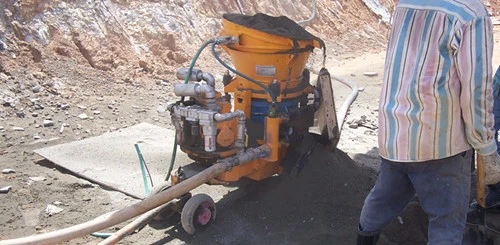 RISEN PZ-3 shotcrete machine with air motor
Output Capacity:
3 cubic meter/hour
Maximum Conveying Distance:
200 m(660 ft)
Desired Shotcrete Ingredient Ratio:
Cement/sand and gravel < 0.35
Maximum Aggregate Size:
10 mm(2/5" )
Inner Diameter of Conveying Hose:
51 mm(2" ) or 42mm (1 5 /8" )
Working Compressed Air Pressure:
29 ~ 87 psi (0.2 ~ 0.6 MPa)
Conveying Air Consumption:
175 ~ 210 cfm (5 ~ 6 cubic meter / min)
Air Motor Power:
5.5kW (7.5 hp)
Dimensions:
1130 x 450 x 1020 mm
Net Weight:
430 Kg